http://languagelog.ldc.upenn.edu/nll/?p=28928
Cynthia McLemore noted on Facebook:
The last couple of debates (including this one) Trump has started off with a very narrow pitch range, using a monotone. I guess he's been coached not to sound 'emotional'. The only question is when the lid comes off…
Here's a simple attempt at quantification of this insight.
I pitch-tracked each candidate's (nominally 2-minute-long) answers to each of the first three questions. (This covers roughly the first half of the debate — though I used only the three two-minute answers, because the rest of the discussion gets pretty messy and I don't have time today to do a careful transcript of all the back-and-forth.)
Then I transformed the f0 estimates into differences in semitones from the median value for each answer, and took the median of the absolute value of those differences.
I did the same thing for Chris Wallace's introduction and questions. In the plot below, the MAD ("median absolute deviation") from the median f0 of Trump's first three answers are plotted as T1, T2,and T3; the corresponding values for Clinton are plotted as C1, C2, and C3; and the corresponding value for Wallace's contributions taken as a whole is plotted as W: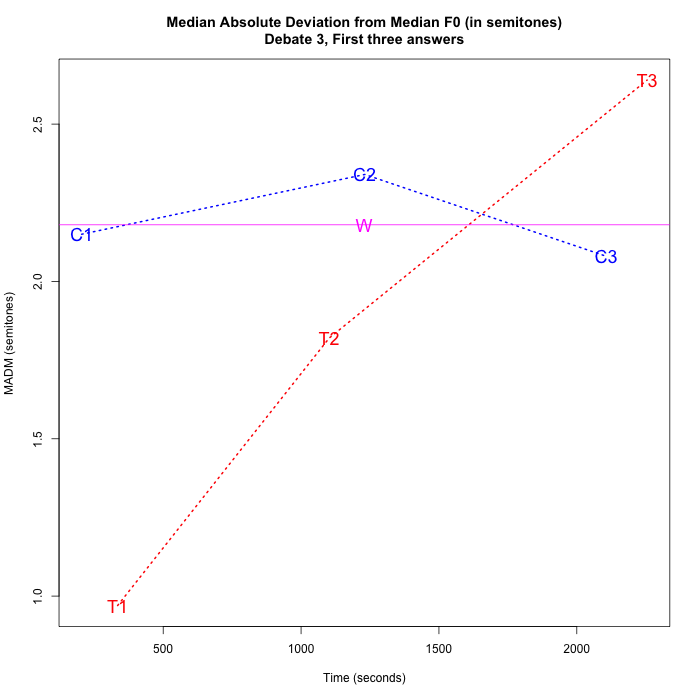 So it's true — Clinton remains fairly level, at about the same MAD value as Wallace, but Trump starts out much more monotone, and ends up more prosodically animated.
Trump's median f0 values also increased (from 112 to 144 Hz), as did his pitch range  measured as the 90th percentile minus 10th percentile f0 values, which increase from 26.6 Hz to 83.3 Hz).
It's an extra step to the explanation offered by the New Yorker cartoon that McLemore added as a comment: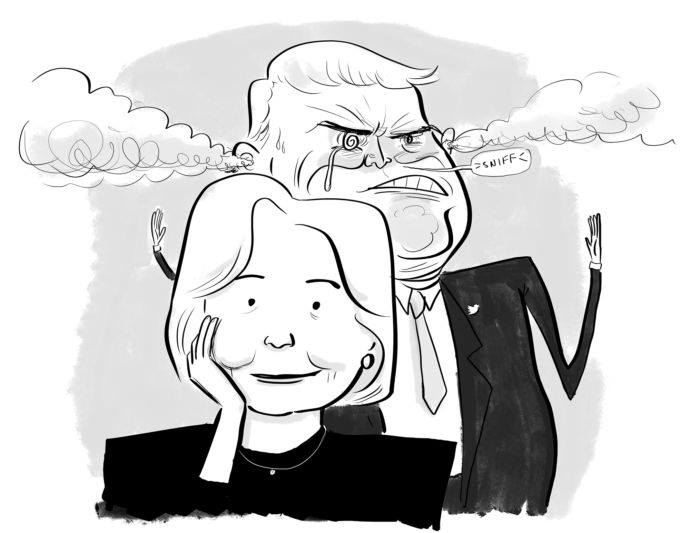 …but a plausible one.